Our Lady of Consolation Parish

Information on this page will keep you up to date on with information concerning Our Lady of Consolation, Sacred Heart Mission, and Our Lady of Guadalupe Mission during the Coronavirus (COVID-19) pandemic and its impact on our parish and diocese. Please refer to the links below to keep updated with the latest information from our parish and the Diocese of Corpus Christi. The latest communication from Fr. Varghese and the Bishop will be featured at the top of the list of links and information.
Bulletin May 24th - click here to view/download
Updates Week of May 24th

Bulletin

May 24, 2020, The Ascension of the Lord.


Beloved parishioners,

Holy Mother Church celebrated the feast of the Ascension on May 21st. In many dioceses in the US including our diocese the same is celebrated on Sunday, May 24. On this day Jesus commissions his disciples to baptize in his name, reminding them that he is always present through his Spirit. Having ascended to his Father amid cries of gladness, we are to be his witnesses for we have been gifted with his Spirit of wisdom and revelation. Let us, therefore, live in a manner worthy of the call we have received.

The weekdays after the Ascension through the Saturday before Pentecost is a time of preparation for the coming of the Holy Spirit.

Sunday, May 31st is the solemnity of Pentecost. There will be two Masses on this day. One at 9:30 am as usual and the second at 11:00 am. Three young adults of our parish will receive the sacrament of Confirmation on this day during the 11 am Mass. About 20-25 people are expected to attend this Mass.

******************************************************************************

Memorial Day - May 25, 2020

We pause on this day to remember and pray for those men and women who gave the ultimate gift. We remember the words of Our Lord, "No one has greater love than this, to lay down one's life for one's friends." (John 15:13. ) Today let us remember and celebrate the lives of these brave men and women who died in service to our country.

Importance of wearing Facial Mask as a precautionary measure

South Texas is slowly being reopened for public worship in the churches etc. People are learning the art of living in the midst of COVID 19 Coronavirus pandemic. Please continue to follow the guidelines and safety measures especially when you come to attend Mass.

COVID 19 Coronavirus is highly contagious mainly through droplets. It is mandatory for all those who enter the parish hall to attend Mass to wear mask for one's own safety and that of others. You may bring your own. Ushers will provide you masks as the supply lasts.

Those parishioners who are 65+ and have major health issues are recommended to stay home till the end of June. Bishop has decreed dispensation from the obligation to attend week end Masses through the month of June 2020. Thank you for your attention.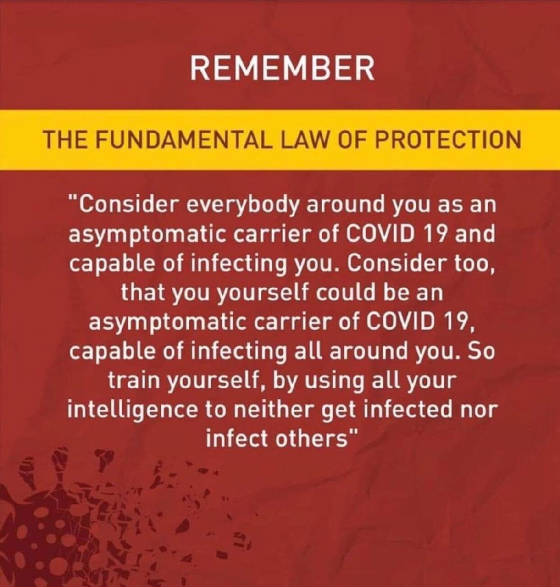 **********************************************************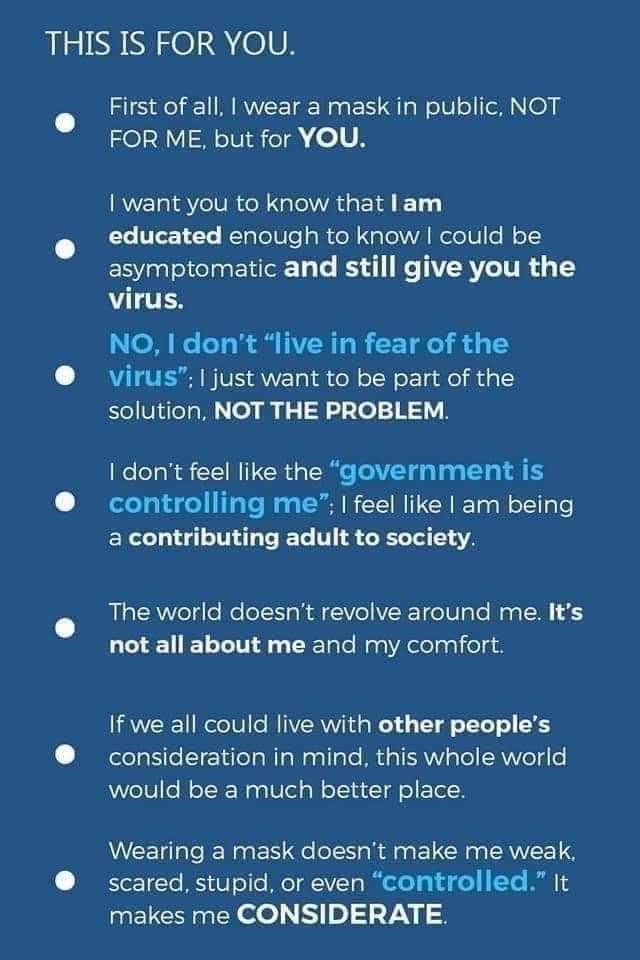 ******************************************************************************

Confirmation 2020

Jayson Hubert, Tristan Croxton and Meagan May will receive the sacrament of Confirmation on Sunday, May 31st during the 11 am Mass at Vattmann hall. Please pray for them, their sponsors and families.

******************************************************************************

First Communion

The First Communion in our Parish will take place on Sunday June 14, the feast of Corpus Christi.

*******************************************************************

Feast of Corpus Christi

Feast of Corpus Christi will be celebrated at Corpus Christi Cathedral, on Thursday, June 11, 2020 beginning at 12 Noon.

Chrism Mass that was postponed due to C 19 COVID virus pandemic will now be celebrated on Thursday, June 11, 2020 @ 6:30 p.m., (held as part of the Feast of Corpus Christi) at the Cathedral. Please pray for our Bishop, Priests and Deacons.

Deacon Michael needs your support

We all know that our Deacon Michael Valenzuela is looking for a kidney donor. Below is a flyer with all the details. Please spread the word and say a prayer for him and his family.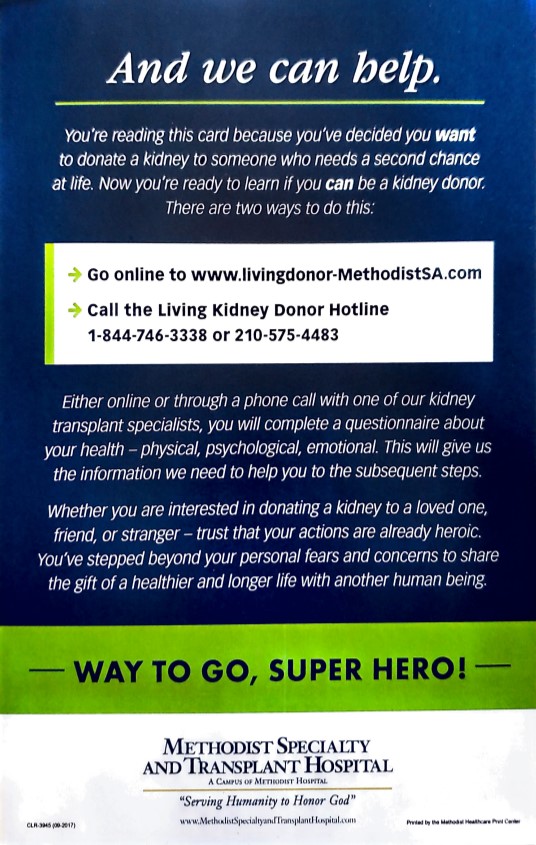 *******************************************************************

Mass Intentions

05/24/20--Mother's Day Novena 7/9,
+Bill Goodwyn--by Tita DeLaPaz


05-25-20--Mother's Day Novena 8/9

05-26-20--Mother's Day Novena 9/9

05-27-20--Juan & Edna Alvarado

5-28-20-- +Earl & +Rosie Yaklin--by M/M Philip Yaklin

5-29-20-- In Thanksgiving--by Bill & Gwen Rudellat

5-30-20-- +Alberto Garcia III (1st Ann)--by Mom Herminia B. Garicia & +Lina Gutierrez (1st Ann)--by Herminia B. Garcia & Family

5-31-20-- Jacob Hubert--by D/M Pancho Hubert,

+Catalina Maldando--by Glenn & Patti Yaklin,

Tony & Barbara Dietz--by M/M Tim Robertson

******************************************************************************
National Day of Prayer

Mariners and People of the Sea. Please join in prayer via digital technology for a remembrance of mariners and people of the sea. Deacon Richard Longoria, Diocese of Corpus Christi will offer the opening prayer. If you are able to join on Friday, May 22, 2020 at 11 a.m. Central Time the link to join the prayer is below.

Meeting Link:
https://usccb.zoom.us/j/98432974585

Walking with Moms In Need

Links to materials for Walking with Moms in Need:

Parish Inventory
https://docs.google.com/document/d/1ZQTcLlXs31JFjeGSsBCzW03aFV1es8vn0slv39qT6wM/edit?usp=sharing



Parish Action
https://drive.google.com/file/d/1Rn-yf1Q3WO9El0ssYRtnwan-BZu0s9t9/view?usp=sharing


Action Guide
https://drive.google.com/file/d/14s9zbawNKmKG9IRIc3Dbx41z2Ivm4Dsz/view?usp=sharing

*******************************************************************
Important Update May 7th



Please view the Diocesan information below concerning the Reopening of Catholic Parishes under the two topics of

"As We Return to Public Mass"

and

"Reopening of Diocese Offices and Opening Parish Offices"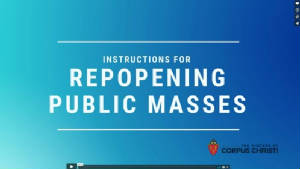 Please see the link below for the video vignettes that the Diocese Communications team put together with the help of parishioners from several of your parishes.  These vignettes will help explain how to keep social distance, use healthy hygiene practices and let the community know what the parishes are doing to help keep them safe. 

In accordance with the guidance of Governor Greg Abbott, Texas began the reopening process on May 1, 2020. The Diocesan Administrative Offices reopened on Monday, May 4, 2020.

Parish Offices may begin to open. Below are some guidelines that you can offer your staff. Please call Marc Cervantes, Legal Counsel or Diana Sanchez in Human Resources at the Diocesan Administrative offices at 361-693-6191 should you have specific questions about staff returning to work.


HEALTH PROTOCOLS:

Stay home when you are sick and notify your immediate supervisor and Human Resources.

During the workday, employees are encouraged to clean and disinfect frequently touched objects.

Face covering is a personal preference. Should you choose to wear a mask, please bring your own.

Face covering for those that are at risk because of an underlying health issue or who are over 65 are strongly encouraged to wear a mask.

SOCIAL DISTANCING:

Practice Social Distancing - maintaining at least 6 feet separation from other individuals. If such distancing is not feasible, other measures such as face covering, hand hygiene, cough etiquette, cleanliness, and sanitation should be adhered to.

Maintain social distancing while greeting people and extend hospitality verbally instead of by shaking hands.

Maintain social distancing in all common areas such as: break rooms, kitchens, lobbies, and hallways.

Try to avoid congregating in common areas such as break rooms, kitchens, coffee area, meeting rooms or conference rooms.
(Click links to open or right-click and open in a new tab or window.)
Message from Fr. Varghese May 5th - Reopening of the Parish
Diocesan Abbreviated Directives_May 4th
Click on the 1st link above to download a PDF of the Abbreviated Directives
Click on the link 2nd link to view an image of the Abbreviated Directives.
Diocesan Directives for Reopening the Parishes
Letter from Bishop Mulvey - Masses resume May 9/10
Message from Fr. Varghese April 29th
Mass to Resume in the churches beginning May 9th and 10th

Please read the letters above from Bishop Mulvey and Fr. Varghese for the important details. More information will be posted soon.


Adoration Time Change

Starting Thursday, April 30th, Adoration will be at 8:00am before Mass will continue to follow at 8:30am.

The Wednesday Mass which has been at 5:30pm will now be celebrated at 8:30 am. Thus, all weekday Masses will be celebrated at 8:30am and Adoration of the Holy Eucharist is at 8:00am.

Weekly Mass Intentions are being published in place of our Weekly Bulletin. Please click on the Weekly Mass Intentions on the left to view.
Livestream Masses:

Sunday at 9:30am Monday - Friday at 8:30am

See details on how to connect by clicking
Updated March 22, 2020
Welcome!

Our Lady of Consolation Parish includes Our Lady of Consolation Church in Vattmann, Texas, Our Lady of Guadalupe Mission in Riviera, Texas and Sacred Heart Mission in Ricardo, Texas.

We are a Roman Catholic Parish of the Diocese of Corpus Christi. Our Pastor is Father Varghese Ethappiri.



We welcome you to join us as a guest or as a member of our community.

MISSION STATEMENT

Our Lady of Consolation Parish, Vattmann, with its two missions at Our Lady of Guadalupe, Riviera, and Sacred Heart Mission, Ricardo, under the patronage of our Blessed Mother, as a united Catholic community, is committed to bringing the Triune God to people, and people to Him, through the Word of God and Sacraments, in obedience to the Church.

Worship Schedule

Please see Calendar and Weekly Bulletin for Special Days' Services

Our Lady of Consolation

Vattmann, Texas

Daily Mass (M,Th,Fri) at 8 a.m.

Sunday at 8:30 a.m.

Sacred Heart Mission

Ricardo, Texas

Saturday Mass at 5p.m.

Our Lady of Guadalupe

Riviera, Texas

Wednesday Eve Mass at 5:30 p.m.

Sunday Mass at 11:00 a.m.


Secretary Office Hours

Wednesdays and Thursdays:

9:30 am to 12:30 pm - 1:30 pm to 5:30 pm
We are honored that you are visiting our web site. Being a religious organization, we are always striving to find new ways to get our message out to current and prospective members. This web site allows us to reach people we may never have been able to contact before.

Please use this site to access the information you need about our Church and as a resource for broadening your faith. We look forward to hearing from you and answering any questions you might have.

We invite you to offer comments and to join our mailing list for announcements and special events.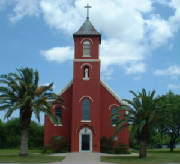 Our Lady of Consolation Parish

204 Palm Avenue, Riviera, TX 78379

Phone: 361-297-5255

Fax: 361-297-5155

website manager: Barbara Grayson